WHY YOU'LL LOVE THIS RECIPE
No Bake Banana Split Dessert is a crowd pleaser! It is perfect for healthy weeknight desserts, hassle free healthy snacks or just when you're craving something sweet. This no bake Banana Split Dessert has all the pieces of a traditional banana split – but skipping the ice cream… which you wont even miss. The skipping of the ice cream makes it a perfect dessert for vegans, lactose intolerant people like myself, or anyone looking to have a fat free treat.
This no bake banana split dessert is packed with chocolate flavor without being too unhealthy. This banana is topped iwth chocolate hummus, rainbow sprinkles and gluten free granola.
First and most important, this is an easy, hassle-free, no bake dessert. No-bake recipes are easy to throw together, easy to make with kids and overall just a world of easier than a baked good. Don't get me wrong, I love brownies, cookies and cakes, but no-bake recieps are so easy! How could you not love them!
This no bake banana split barely makes any mess. You don't need to be cleaning bowls, measuring cups, measuring spoons and baking pans. It uses only one plate and a knife for spreading! Heck its even easier if you make it on a paper plate and all you need to clean up is a knife! The only dessert easier than this is buying one.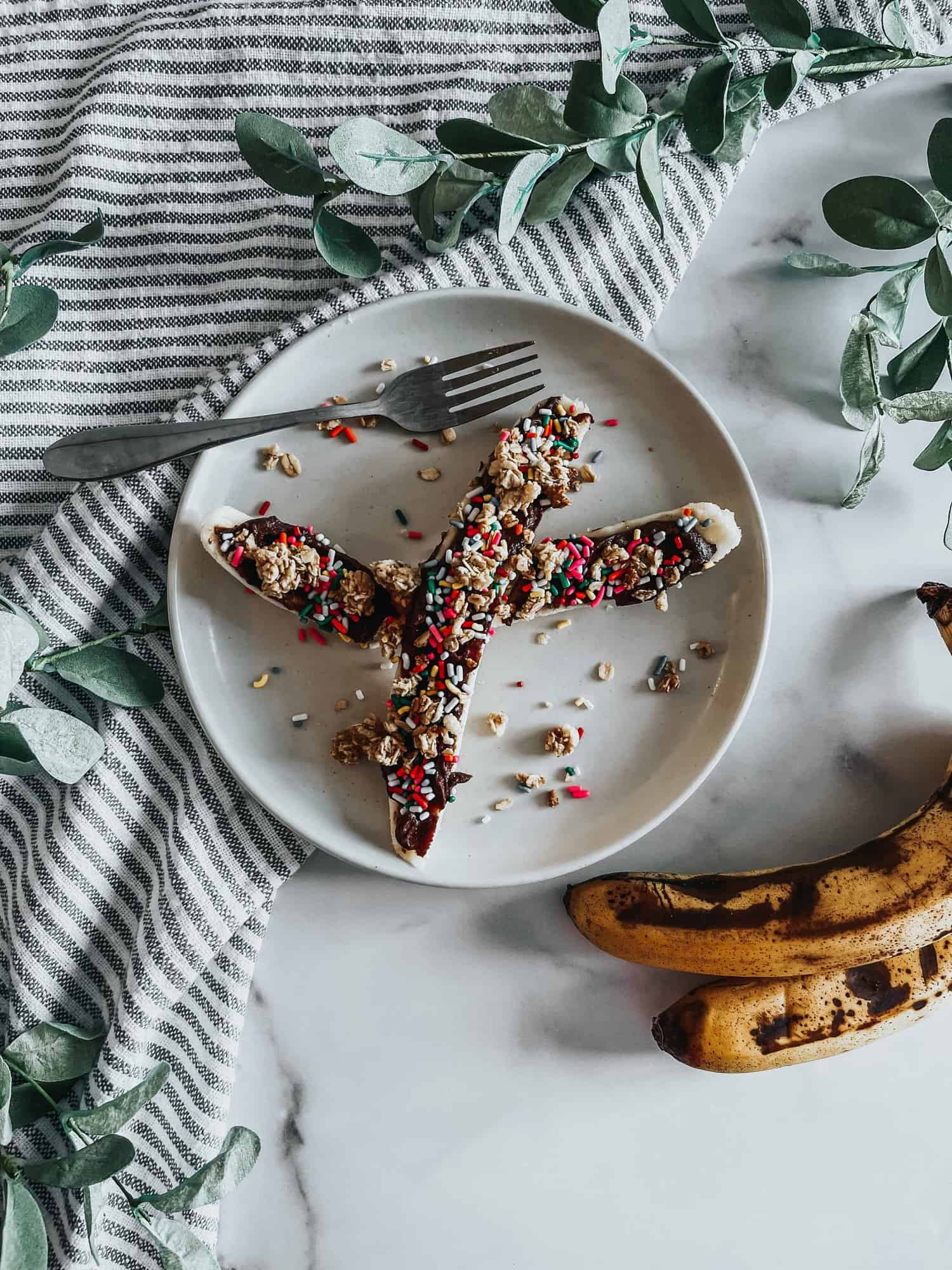 INGREDIENTS & SUBSTITUTIONS
Banana
This no-bake banana split dessert is perfect for a healthy dessert or guilt free treat! The banana is the base of this dessert. Its naturally gluten free and vegan of course! Think of it like a banana split…without the ice cream but with all of the good banana split toppings.
Chocolate hummus
This banana split dessert recipe uses chocolate hummus because its sweet, chocolate flavored and vegan. Chocolate hummus is low in saturated fat. Make sure to check the label of the chocolate hummus you buy to make sure it is vegan (most are but please check)! If you dont want to use chocolate hummus for your banana split, you can sub peanut butter, nut butter, tahini, chickpea butter, granola butter, or any spread similar to peanut butter. Chocolate hummus has less fat in it than peanut butter or nut butters but they do make good substitutes.
Healthy banana split toppings: Granola, sprinkes, strawberries or blueberries
This no-bake dessert recipe uses gluten free granola and sprinkles as toppings. These toppings make this dessert a healthy option. Other toppings substitutions are nuts, any type of seeds, fruits or chocolate. Feel free to make this banana split your own! You can use any topping you would put on top of a regular ice cream banana split. Even feel free to top it off with some whipped cream!
5 Alternative air fryer banana toppings:
Smores: add marshmallows, chocolate hummus and crumbeled gluten free cookies
Triple chocolate: Add chocolate hummus, vegan chocolate chips and chocolate sauce
Birthday cake: Add vanilla yogurt, chocolate sauce and rainbow sprinkes
Caramel Cream: add vanilla yogurt and caramel sauce
Peanut butter cup: Add chocolate hummus, powdered peanut butter and chocolate sauce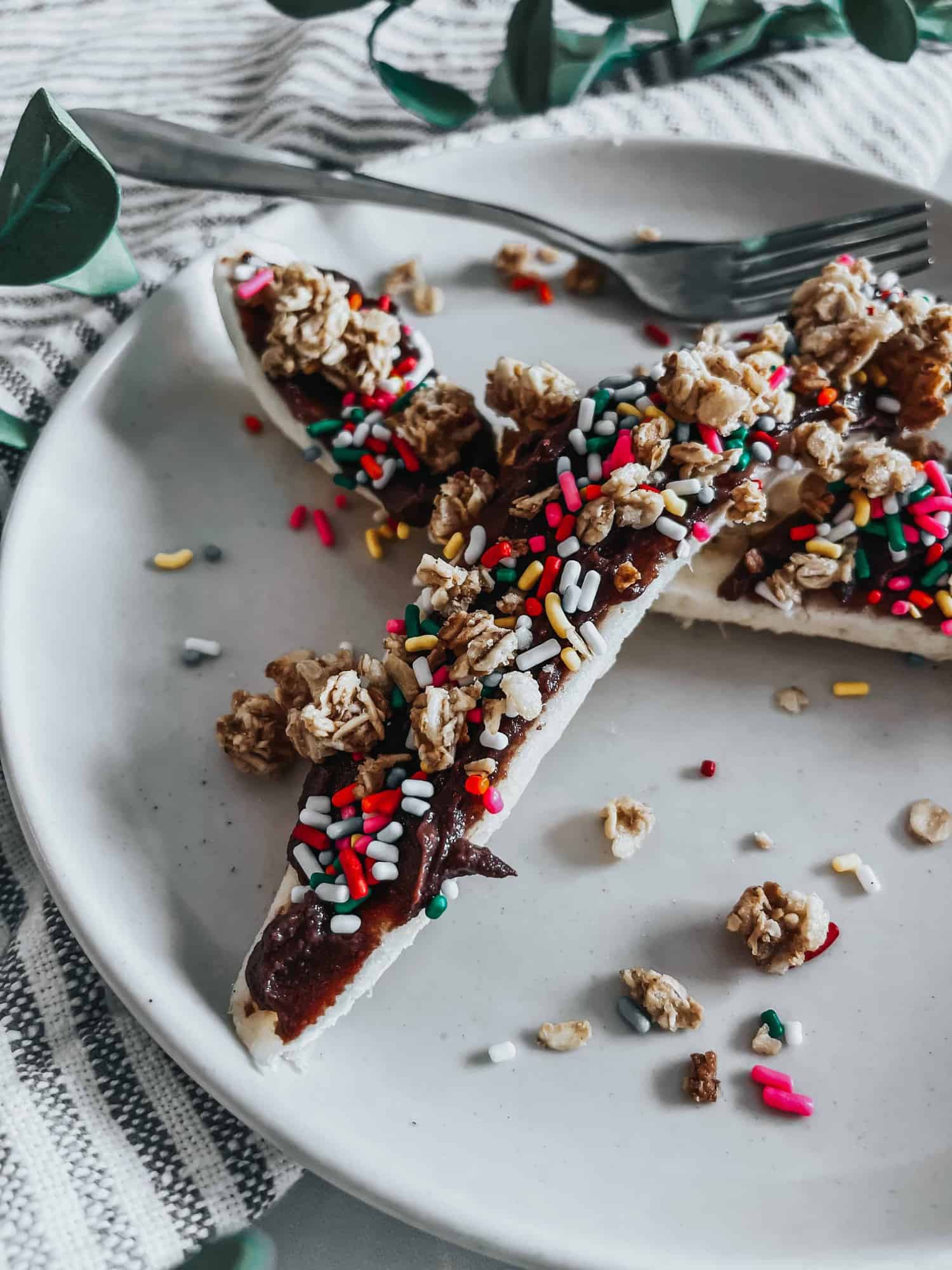 TASTE & TEXTURE
This is a healthier version of a traditional banana split. It is dairy free since there is no ice cream! Its served best at room temperature or even warmed up.
See the warm, air fryer version of the same banana split idea here:
https://kaylacappiello.com/healthy-banana-split-air-fryer/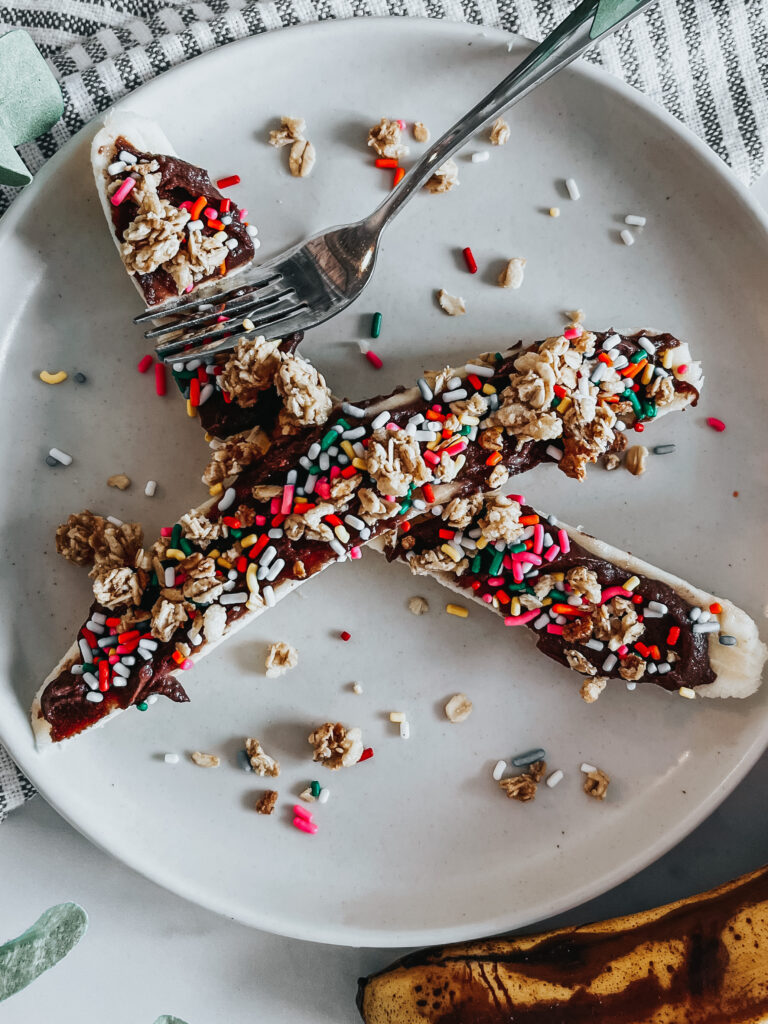 HOW TO MAKE
DIRECTIONS
STEP 1
Slice open the banana, remove the banana from the peel and spread chocolate hummus on top.
STEP 2
Add granola, sprinkles or any other toppings.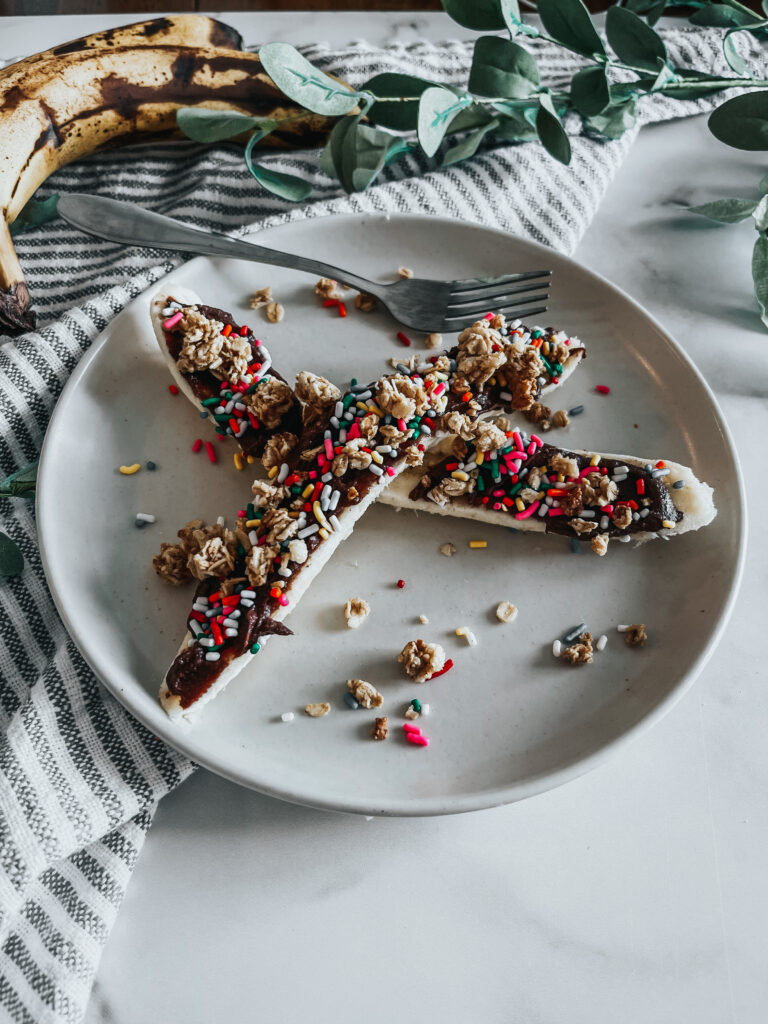 HOW TO SERVE & STORE
This banana split dessert can be stored in an air tight container in the fridge for up to 3 days, although I always finish this in one sitting! To prepare this for kids' lunches or snacks you can store in tupperware in the frige or in their lunchbox. Cut into smaller pieces if the children are young!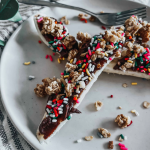 Print Recipe
No-bake Banana Split Dessert (Gluten free/Vegan)
This no-bake banana split is the perfect healthy dessert option. It's gluten free and vegan! Use any topping you would put on top ice cream!
Ingredients
1

banana

2

tbsp

chocolate hummus

2

tbsp

gluten free granola

2

tbsp

sprinkles vegan

1

tbsp

chocolate syrup vegan
Instructions
Slice open banana and add chocolate hummus.

Add strawberries and blueberries.