why you'll love this recipe
This Gluten-Free and Dairy-Free blueberry bread with pancake mix recipe is created with only four simple ingredients! It literally does not get an easier than that! This fluffy treat is a game-changer for individuals who adhere to a gluten-free or dairy-free lifestyle. Bursting with healthy blueberries and vanilla flavor, this blueberry bread with pancake mix has a moist and fluffy texture, just like pancakes! This blueberry bread with pancake mix combines the best parts of breakfast pancakes and dessert.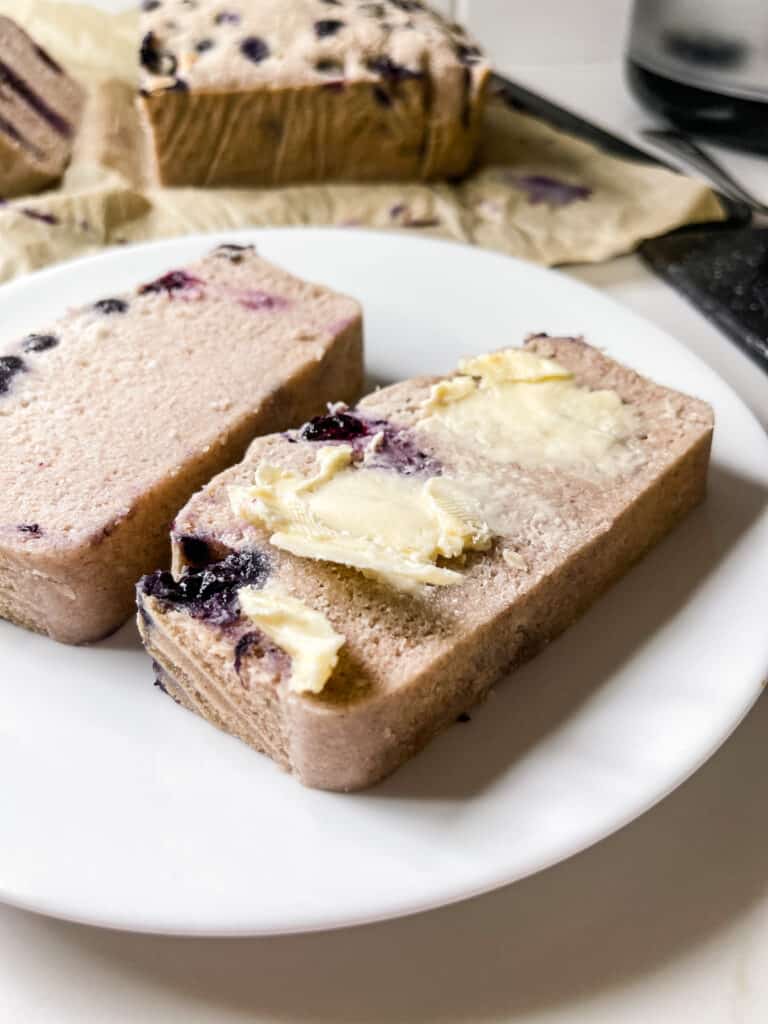 ingredients & substitutions
Pancake mix
For this recipe i used a just-add-water gluten free pancake mix. It is a convenient and easy way to make gluten free pancakes at home so I figured why not make a bread out of it.
Here is the link to the gluten free and vegan pancake mix by chelsea approved that I used!
Blueberries
Blueberries are one of the healthiest fruits out there! I had no idea until I googled if it was OK to give my puppy blueberries and I was shocked!! Here are some of the health benefits I found:
Improved heart health: Blueberries contain anthocyanins, which are antioxidants that can help protect your heart. They have been shown to lower blood pressure, reduce inflammation, and improve cholesterol levels.
Reduced risk of cancer: Blueberries contain ellagic acid, which is an antioxidant that has been shown to help protect against cancer. They have been linked to a reduced risk of lung, breast, and colon cancer.
Improved cognitive function: Blueberries contain antioxidants that can help protect your brain cells from damage. They have been shown to improve memory, learning, and focus.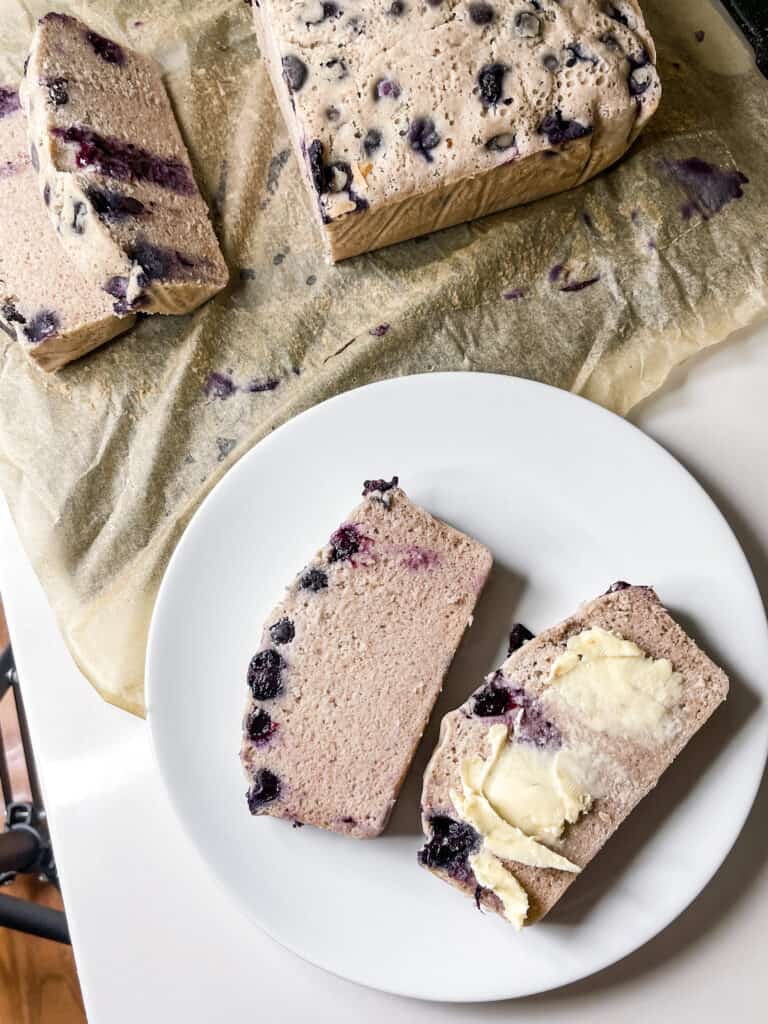 taste & texture
Warm and fluffy blueberry bread with pancake mix is a delicious and easy-to-make treat. The pancake mix gives the bread a light and airy texture, while the blueberries add sweetness and tartness. The bread is best enjoyed warm, when the blueberries are juicy and the bread is still slightly soft.
The taste of warm and fluffy blueberry bread with pancake mix is a combination of the sweetness of the blueberries, the richness of the pancake mix, and the slight tartness of the blueberries. The texture of the bread is light and airy, with a slight chewiness from the blueberries. The bread is moist and flavorful, and it is a great way to use up ripe blueberries.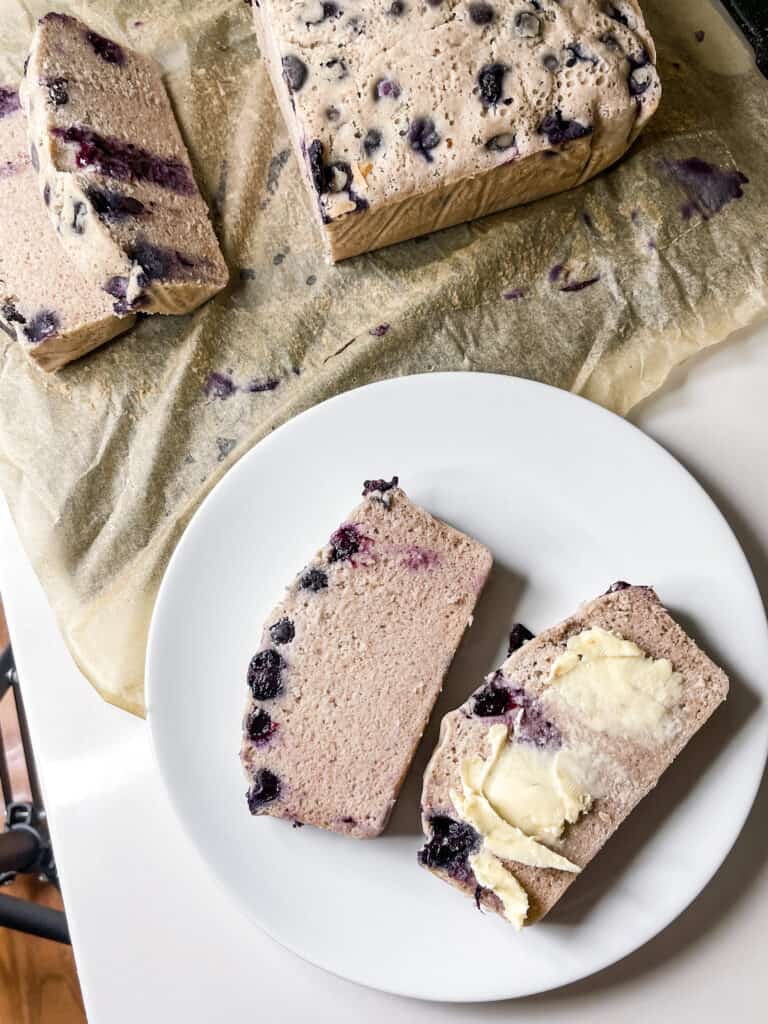 directions
Preheat your oven to 350°F (175°C) and grease a loaf pan with dairy-free cooking spray or line it with parchment paper for easy removal.
In a large mixing bowl, combine the instant gluten-free pancake mix and water. Stir well until the mixture is smooth and free of lumps.
Add the blueberries to the batter and gently fold them in until they are evenly distributed throughout the mixture.
Pour the batter into the prepared loaf pan, spreading it out evenly.
Place the pan in the preheated oven and bake for 30-45 minutes, or until a toothpick inserted into the center of the bread comes out clean and the top is golden brown.
Once fully cooked, remove the bread from pancake mix from the oven and let it cool in the pan for about 10 minutes.
Carefully transfer the bread to a wire rack to cool completely before slicing and serving.
Enjoy the Gluten-Free and Dairy-Free blueberry bread from pancake mix as is or with your favorite toppings such as maple syrup, fresh fruit, or a dusting of powdered sugar.
expert tips & tricks
Use ripe blueberries. The riper the blueberries, the sweeter the bread will be.
Mash the blueberries well. The blueberries should be smooth and creamy.
Don't overmix the batter. Overmixing can make the bread tough.
Bake the bread until it is golden brown. A toothpick inserted into the center of the bread should come out clean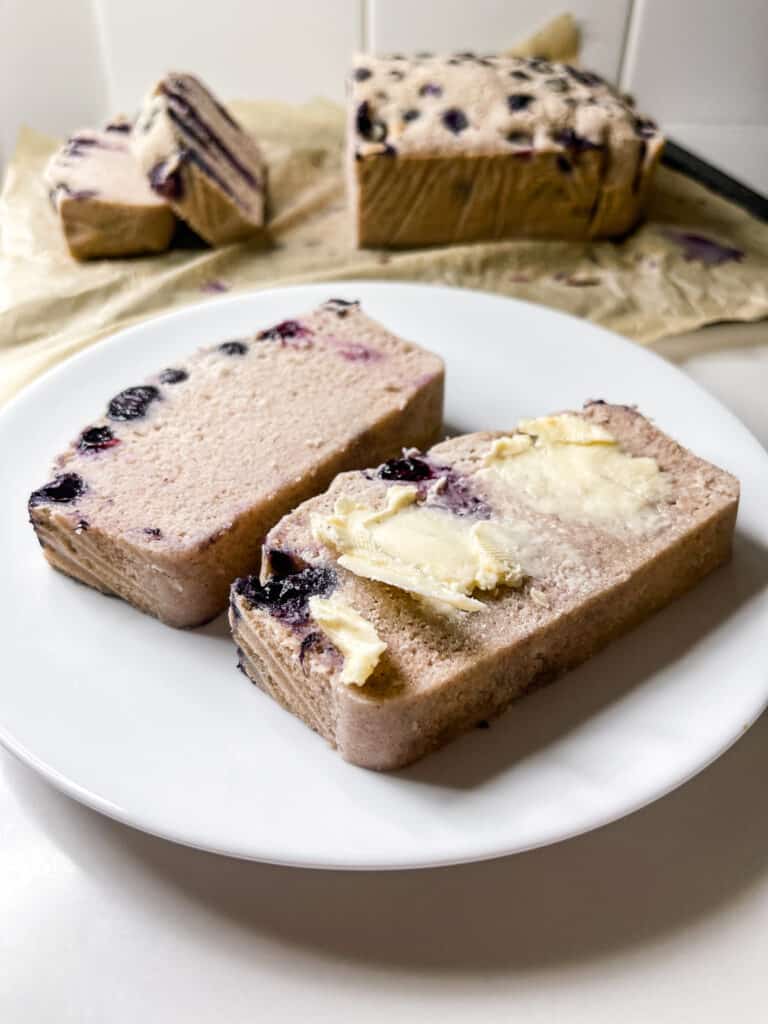 how to serve & store
Proper Bread Storage: To ensure your pancake bread remains fresh and retains its fluffy texture, wrap it tightly in plastic wrap or store it in an airtight container at room temperature. The bread can be enjoyed for up to three days after baking. For a warm and toasty experience, lightly toast individual slices before serving.
Here are some variations on the recipe that you can try:
Add chocolate chips or nuts to the batter for extra flavor and texture.
Add spices, such as cinnamon or nutmeg, to the batter for a more festive flavor.
Drizzle the bread with honey or maple syrup for a sweet treat.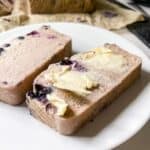 Print Recipe
Bread with Pancake Mix (gluten free)
If you love pancakes, you're going to love this blueberry pancake loaf. It's made with 4 ingredients…and one of those ingredients is water so this is literally as easy as it gets!
Ingredients
2

cups

just-add-water gluten-free pancake mix

Water

as per box directions for 2 cups

1 ½

tsp

vanilla

1

cup

blueberries
Instructions
Mix all ingredients together in a bowl.

Add to lined loaf pan.

Bake on 350 for 35-55 minutes. It should not be delicate to the touch at the top